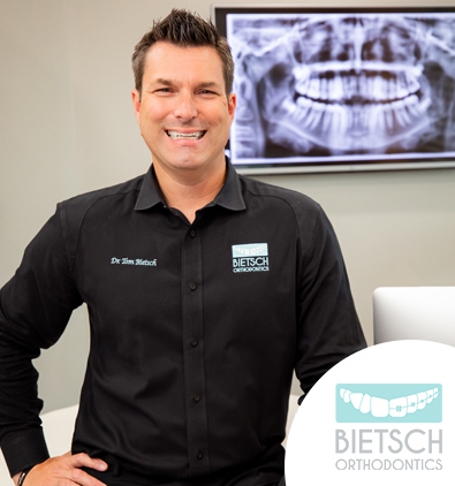 Dr. Tom Bietsch
Orthodontist, Owner
Bio
Having practiced orthodontics for more than 19 years, I am excited to offer Prosper residents a place where they can attain their best smile in a compassionate and fun environment. Originally from Chicago, I knew as a teen that I wanted to be an orthodontist. My neighbor was an orthodontist and he  gave me the confidence and reassurance by volunteering in his office that being an orthodontist was my calling.  I love watching patients' confidence and self esteem grow as their smile is enhanced and I strive to give every patient an uplifting and enjoyable experience during their orthodontic care, regardless of their age.   My family moved to Prosper where we call home and we look forward to serving you here at BIETSCH Orthodontics.
Our Practice Focus
I see patients of all ages at my practice. Whether a young child ready to begin your first phase of orthodontic work, or an adult who wants an edge in life with a confident smile, I love finding the right solution to create the best outcome. I am specialized to work with varying degrees of orthodontic correction, so if your child has overcrowding, a misaligned bite, or requires unique treatment such as dentofacial orthopedics or orthodontic surgery, I want to reassure you that we have a solution!
My practice offers both metal and clear braces, as well as Phase 1 and Phase 2 pediatric orthodontic treatments to prepare the mouth for life-long correction. Regardless of age, you'll be making trips to my practice throughout your treatment process, and that is why we offer a welcoming, family environment that is positive, engaging, and fun. We don't want you to dread coming to the orthodontist, we want you to look forward to it! Rest assured I've spared no expense to make this practice everything Prosper wants, from investing in cutting-edge technology to creating that welcoming feeling you experience the moment you walk through my practice doors.
My Education & Training
I received my Doctorate of Dental Surgery from the University of the Pacific in San Francisco, CA and earned my specialty in Orthodontics Certification from the University of Pennsylvania in Philadelphia. While attending the University of Pennsylvania, I also served as Chief Resident. I decided to start my own personal practice here in Texas and chose the North Texas community of Prosper because of the warm, friendly community and focus on family. Since day one of opening my practice doors, I've corrected countless bites, created stunningly beautiful smiles, and have maintained relationships with my patients while helping them live their lives with confidence!
Professional Associations
I am proud to be an affiliate or a member (past and present) of the following professional associations:
American Dental Association
California Dental Association
American Association of Orthodontics
Tri-County Dental Society
In My Personal Time
When I am not creating beautiful smiles, you can find me enjoying the outdoors with my wife, Bianca, and my four sons. My favorite outdoor activities include boating, mountain biking, basketball, and camping. I am also a loyal Chicago Bears and Chicago Blackhawks fan. Bietsch Orthodontics is proud to sponsor and support our local schools and community.
Fun Facts
I love road trips.
I love camping and being outside.
I love coaching my boys' sports teams.